Purpose: 
Encourage students to become better acquainted with today's books known for outstanding literary appeal.
Broaden students' awareness of literature as a life-long pleasure.
Increase vocabulary, score higher on the SAT, and improve life-skills.
To honor favorite books and authors.
Voting: 
To become a qualified voter, a student must have a participant's application on file in the library and read at least four of the nominated books in their entirety.
Each participant must complete a reflection question for each book read.  (See library staff for a copy)
Each qualified voter has one vote per four books read for his/her favorite book and is eligible to participate in a random cash prize drawing
Each voter is eligible to win a cash prize.  The prizes awarded will be:  1st place – $75.00, 2nd place – $50.00, 3rd place – $25.00
Voting deadline: April 15, 2022.  Voting procedures will be announced.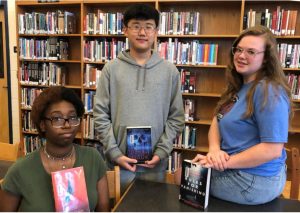 2022 Virginia Readers' Choice Winners
Tempest Key ($75), Jonathan Sung ($25), Kaylin Hunnel ($50)
---
After the Shot Drops by Randy Rigby
Bunny and Nasir have been best friends forever, but when Bunny accepts an athletic scholarship across town, Nasir feels betrayed. While Bunny tries to fit in with his new, privileged peers, Nasir spends more time with his cousin, Wallace, who is being evicted. Nasir can't help but wonder why the neighborhood is falling over itself to help Bunny when Wallace is in trouble.  When Wallace makes a bet against Bunny, Nasir is faced with an impossible decision–maybe a dangerous one.
Beneath a Scarlet Sky by Mark Sullivan
Pino Lella wants nothing to do with the war or the Nazis. He's a normal Italian teenager–obsessed with music, food, and girls–but his days of innocence are numbered. When his family home in Milan is destroyed by Allied bombs, Pino joins an underground railroad helping Jews escape over the Alps, and falls for Anna, a beautiful widow six years his senior.  In an attempt to protect him, Pino's parents force him to enlist as a German soldier–a move they think will keep him out of combat. But after Pino is injured, he is recruited at the tender age of eighteen to become the personal driver for Adolf Hitler's left hand in Italy, General Hans Leyers, one of the Third Reich's most mysterious and powerful commanders.  Now, with the opportunity to spy for the Allies inside the German High Command, Pino endures the horrors of the war and the Nazi occupation by fighting in secret, his courage bolstered by his love for Anna and for the life he dreams they will one day share.
Brazen:  Rebel Ladies Who Rocked the World by Penelope Bagieu
Step aside Susan B. Anthony and Joan of Arc! French graphic novelist Bagieu's latest turns standard feminist anthology fare on its head, introducing 29 lesser-known ladies of various backgrounds, time periods, skin colors, and sexualities. Kicking off with Clémentine Delait, a beloved bearded lady in early twentieth-century France, and concluding with Mae Jemison, the first black woman in space, Bagieu's vivacious collection spotlights rebels such as Las Mariposas (revolutionary sisters!), Sonita Alizadeh (Afghan rapper!), and Nobel Peace Prize-winning Leymah Gbowee (Liberian activist!) along the way.
Down and Across by Arvin Ahmadi
Scott Ferdowsi has a track record of quitting. His best friends know exactly what they want to do with the rest of their lives, but Scott can hardly commit to a breakfast cereal, let alone a passion. With college applications looming and his parents pushing him to settle on a "practical" career, Scott sneaks off to Washington, DC, seeking guidance from a famous psychologist who claims to know the secret to success.  He never expects an adventure to unfold. But that's what Scott gets when he meets Fiora Buchanan, a college student whose life ambition is to write crossword puzzles. When the bicycle she lends him gets Scott into a high-speed chase, he knows he's in for the ride of his life.
Dry by Neal & Jarrod Shusterman
When the California drought escalates to catastrophic proportions, one teen is forced to make life and death decisions for her family in this harrowing story of survival . The drought–or the Tap-Out, as everyone calls it–has been going on for a while now. Everyone's lives have become an endless list of don'ts: don't water the lawn, don't fill up your pool, don't take long showers.  Until the taps run dry.  Suddenly, Alyssa's quiet suburban street spirals into a warzone of desperation; neighbors and families turned against each other on the hunt for water. And when her parents don't return and her life–and the life of her brother–is threatened, Alyssa has to make impossible choices if she's going to survive.
Everless by Sara Holland
In the kingdom of Sempera, time is currency–extracted from blood, bound to iron, and consumed to add time to one's own lifespan. The rich aristocracy, like the Gerlings, tax the poor to the hilt, extending their own lives by centuries.  No one resents the Gerlings more than Jules Ember. A decade ago, she and her father were servants at Everless, the Gerlings' palatial estate, until a fateful accident forced them to flee in the dead of night. When Jules discovers that her father is dying, she knows that she must return to Everless to earn more time for him before she loses him forever.  But going back to Everless brings more danger–and temptation–than Jules could have ever imagined. Soon she's caught in a tangle of violent secrets and finds her heart torn between two people she thought she'd never see again. Her decisions have the power to change her fate–and the fate of time itself.
 Heroine by Mindy McGinnis
When a car crash sidelines Mickey just before the softball season, she has to find a way to hold on to her spot as the catcher for a team expected to make a historic tournament run. Behind the plate is the only place she's ever felt comfortable, and the painkillers she's been prescribed can help her get there. The pills do more than take away pain; they make her feel good. With a new circle of friends–fellow injured athletes, others with just time to kill–Mickey finds peaceful acceptance, and people with whom words come easily, even if it is just the pills loosening her tongue. But as the pressure to be Mickey Catalan heightens her need increases, and it becomes less about pain and more about want, something that could send her spiraling out of control.
Perfect Candidate by Peter Stone
When recent high school graduate Cameron Carter lands an internship with Congressman Billy Beck in Washington, DC, he thinks it is his ticket out of small-town captivity. What he lacks in connections and Beltway polish he makes up in smarts, and he soon finds a friend and mentor in fellow staffer Ariel Lancaster.  That is, until she winds up dead. As rumors and accusations about her death fly around Capitol Hill, Cameron's low profile makes him the perfect candidate for an FBI investigation that he wants no part of. Before he knows it–and with his family's future at stake–he discovers DC's darkest secrets as he races to expose a deadly conspiracy.  If it doesn't get him killed first.
Pitch Dark by Courtney Alameda
Lost to time, Tuck Morgan and his crew have slept in stasis aboard the USS John Muir for centuries. Their ship harbors a chunk of Earth, which unbeknownst to them, is the last hope for the failing human race. Laura Cruz is a ship raider searching the galaxy for the history that was scattered to the stars. Once her family locates The John Muir and its precious cargo, they are certain human civilization is saved. When Tuck's and Laura's worlds collide–literally–the two teens must outwit their enemies, evade brutal monsters that kill with sound and work together to save the John Muir . . . and the whole human race.
A Very Large Expanse of Sea by Tahereh Mafi
It's 2002, a year after 9/11. It's an extremely turbulent time politically, but especially so for someone like Shirin, a sixteen-year-old Muslim girl who's tired of being stereotyped. Shirin is never surprised by how horrible people can be. She's tired of the rude stares, the degrading comments–even the physical violence–she endures as a result of her race, her religion, and the hijab she wears every day. So she's built up protective walls and refuses to let anyone close enough to hurt her. Instead, she drowns her frustrations in music and spends her afternoons break-dancing with her brother. But then she meets Ocean James. He's the first person in forever who really seems to want to get to know Shirin. It terrifies her–they seem to come from two irreconcilable worlds–and Shirin has had her guard up for so long that she's not sure she'll ever be able to let it down.
Note:  All descriptions are from Follett's Titlewave online database.