DHS Teacher Brings Home the Gold
Dalton Wins Strongman State Championship
by Patty Massengill  Feb. 11, 2020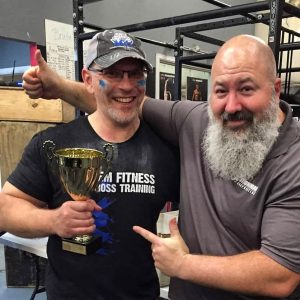 Dinwiddie High School (DHS) Spanish Teacher Mr. Michael Dalton has been teaching in the county for two years  and 20 years altogether, but on Saturday, January 18, 2020, he was showing a different side from what his students and co-workers see. Mr. Dalton won his first championship at the Virginia State Master's Lightweight Strongman Championship 2020 held in Norfolk, Virginia. Michael stated, "It was a trying couple of weeks for me, but I overcame the odds.  I'm proud to bring the gold home to DHS!"
Mr. Dalton has been body building since 1995. In 2017 he earned three pro cards with three different national organizations. Currently he judges competitions and coaches those who want to compete.  Michael also started a Power Lifting club at DHS for student last year that has been very well received by the students. Fifteen to twenty-five students regularly come out to learn this sport and an opportunity to participate in local meets twice a year.
"It was a trying couple of weeks for me, but I overcame the odds.  I'm proud to bring the gold home to DHS!"
In April 2019 Mr. Dalton started training for the Strongman competition by joining Mayhem gym in Henrico County. There were 60 competitors at this state event and Michael set two state records.  One record for the deadlift event with 525 pounds.  The other record was for the Farmers Carry event in which he carried 210 pounds in each hand 160 feet!
Congratulations to teacher Michael Dalton on receiving the Masters Lightweight VA State Strongman Championship title which qualifies him for the Nationals in Las Vegas this September.  Next he will be competing in the Power Lifting Nationals in April.
We wish Mr. Dalton the best of luck in his competitions and for being a role model showing his students that anything can be achieved if you set you mind to it!