August 11, 2023 – Senior Bookbags
SENIORS ditch that traditional cool demeanor backpack and opt for something more nostalgic and silly. Think about your kindergarten days as you will be experiencing "Your Last First Day" soon. Join us in Showing "How Far You've Come" and walk the halls with your favorite cartoon character, superhero, past and present. Your senior officers and staff from the high school will take videos of you. So show us what you got!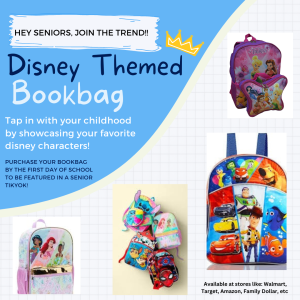 Graduation Information:  Slide Show, Graduation Details, & Gift Opportunities
Instructions to Graduates Concerning Commencement
Click here for instructions for graduates concerning commencement.  Click here for instructions for graduates in Spanish.
Drippin in Luxury Prom Information
The prom will be Saturday, May 6, 2023, at Old Towne Civic Center, Petersburg, VA. Click here for more information.
Baccalaureate Service Information
Class of 2023 Baccalaureate Service will be Sunday, April 30, 2023, at Olive Branch Baptist Church. Click here for more information.
Class of 2023 Senior Trip Information
2023 Senior Trip to Charlotte, NC
Saturday, April 1st – 2nd, 2023
Locations to be Visited:  Carowinds Amusement Park and Charlotte Hornets Arena
Important Dates/Payments
Tuesday, February 28th – $50 Deposit
Tuesday, March 14th – 1st $100 Payment Due
Friday, March 24th – 2nd $100 Payment Due
All payments can be made through SchoolCashOnline.com 
No cash payments will be accepted
* * No payments of any kind will be accepted after March 24th. Balance should be paid in full.
January 23, 2023 – Senior Cap & Gown and Announcements Ordering Information
Click her for ordering information.
May 18, 2023 – Dinwiddie High School Graduation Date Change Information
Dinwiddie High School graduation is now Thursday, May 18, 2023, at 10:00 a.m. at Virginia State University Multipurpose Center. This is due to a schedule conflict with our host location.
October 7, 2022 – Class of 2023 Fundraiser
DO NUT miss out! DHS Class of 2023 is having its 1st fundraiser for the year. EVERY SALE COUNTS so please participate as the money goes towards senior activities so please support!!!
Click here for the fundraiser flyer.
September 14, 2022 – Dates for Herff Jones Orders
Click here for a list of Herff Jones scheduled service dates.