Aug 31: Back To School Bash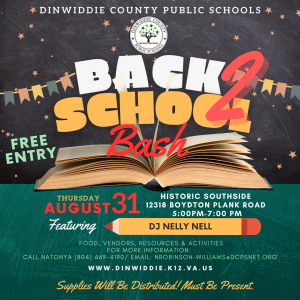 Our Back 2 School Bash will be held on Thursday, August 31, 5pm-7pm at Historic Southside High School Education Center located at 12318 Boydton Plank Road, Dinwiddie, VA 23841. A wide variety of activities and games, there will be school supplies, student services and so much more.
All students must be present to receive supplies. Supplies are for DCPS students only.
For more information about the event or to reserve a table, please contact Natonya Robinson-Williams at (804) 469-4190 or NRobinson-Williams@dcpsnet.org.